Welcome to Hazel's class page. Here, you can find out what we've been up to and what's coming up. We are very excited about the year ahead and we hope you enjoy looking at our learning! Please visit again soon to follow our learning journey across the year.
Useful information
Each day, the children need to bring their book bag, water bottle and a coat.
Please can children keep a pair of daps in school as we will be having active sessions throughout the week. They won't need full PE kit, just a change of shoes.
The children have PE with the PE coach on a Thursday so please ensure PE kit is worn on this day.
If you would like to find out more about our approach to teaching phonics and early reading, please click here.
Maths
The class have been learning the different properties of the shapes circles and triangles. The class extended their learning through activities including: creating shape pictures, using the construction area and painting, this was also a great work out for their fine motor skills. Ask your children to spot circles and triangles around your home and maybe when out at the shops!
English
Hazel Class enjoyed talking about how their family celebrated Christmas and then using their increasing phonic knowledge completed a piece of writing with a lovely picture.
Maths/Expressive Arts and Design
Hazel Class used circles and triangles, which they are exploring during their Maths lessons and created some colourful art work. The class were inspired by the artist Kandinsky and his use of circles.
Celebrations
As part of our new theme, we discussed the ways our families celebrate different special occasions, we talked about birthdays, Christmas and Easter. We learnt about Bonfire Night and how we all celebrate differently. We then created wonderful firework paintings and just like the way we celebrate they are all different.
Music and movement
With Mrs AJ at the piano, Hazel Class enjoy exercising to the music:- marching, hopping and racing around. They are also wonderful wiggly worms, cheeky monkeys and snails!
Outdoor learning and art
The children have enjoyed exploring the forest and spotting the changes to their environment linked to the changing seasons. Hazel Class then created artwork with items gathered from their environment, Andy Goldsworthy was their inspiration, the children were amazed by his artwork and sculptures.
Music
Hazel Class have enjoyed music lessons, selecting their favourite instruments and creating music with them.
English
Hazel class enjoyed listening to the story Whatever Next! They wrote about what they would take to space during their English lesson, they had some interesting ideas!
Theme
The children listened to the story, A Day to Remember, linked to Remembrance Day and then discussed why and who we should remember during this time. The children then created poppies using different resources in the class.
Cooking
Hazel class went to the moon! We made sandwiches with many different fillings to pack into our rocket. Blast off!
DT
After our trip to the moon, Hazel class created their own rockets using paint, glue and tissue paper.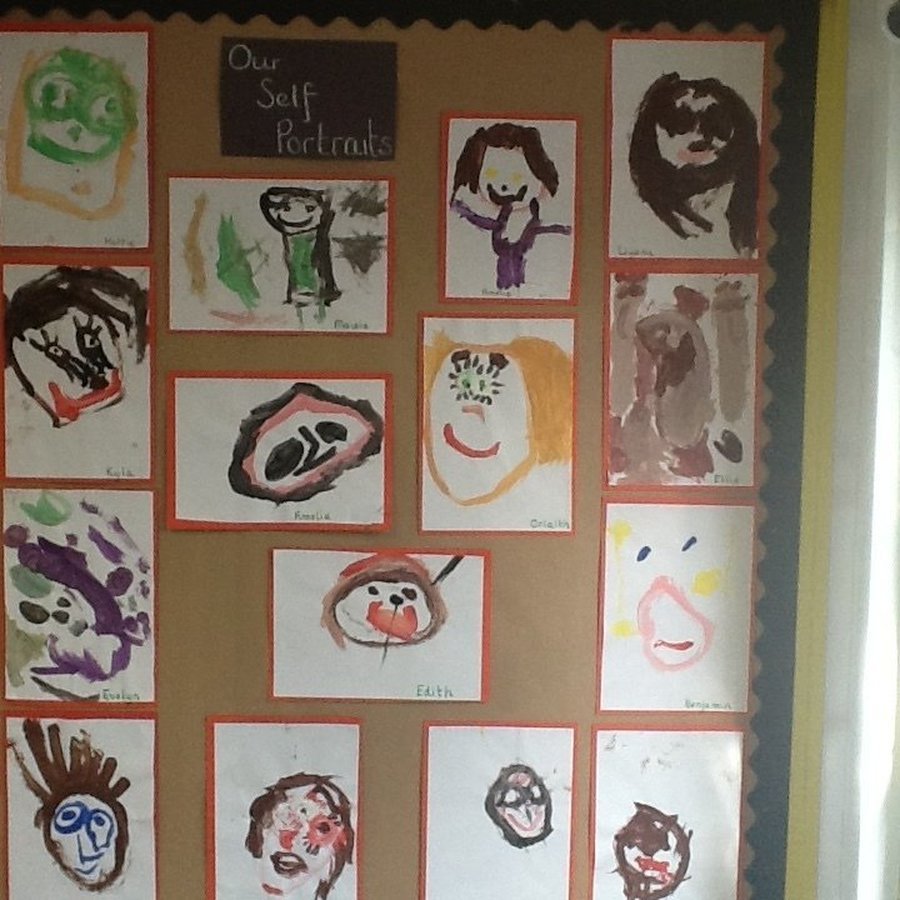 Mud kitchen
The children have been creating some delicious recipes in our mud kitchen - yum yum!
Three teddy bears
In maths, we had a picnic and found three of each item for our bears, we have been learning about the number three.
PSHE
Hazel Class had a visit from the SCARF Team, we learnt how to look after our bodies.
Maths
Hazel Class have been looking at the number four.
Outdoor learning
Hazel Class have been learning how to care for their garden and we had great fun digging up the weeds.