Welcome to Oak's class page. Here you can find out what we've been up to and what's coming up. We are very excited about the year ahead and we hope you enjoy looking at our wonderful work!
Useful Information
PE
PE this term will be on Tuesdays and Thursdays. Please come in your PE kit (white tops and black shorts/joggers) on these days. On Tuesdays we will be doing rugby and on Thursdays we will be doing dance.
Home learning
Reading- Please read regularly at home. You can find ideas for comprehension questions to ask at home in the Reading Resources section of the website. In Oak Class, children have 'Home Reading Journals' to complete tasks linked to their reading books.
Spelling- There will be a weekly assignment on Spelling Shed each week. This will be set on a Friday and needs to be completed by the following Friday. Please see the termly spelling overview to see the word lists.
Times Tables- Practise on Times Tables Rock Stars at home every week. Look out for tournaments and battles throughout the term!
Homework Diaries- Children in Oak Class will have their own homework diaries to keep track of any extra home learning activities set in class. These activities may be linked to any area of the curriculum and children will have a week to complete them. They can bring in the completed activity or post a photo on Class Dojo.
Term 2
Our mission question is: What did the tree see?
History
Today we launched our new history mission which is based around the wonderful book by Charlotte Guillain- What did the tree see? After reading the story, we visited some of the oldest trees near our school to imagine what changes they might have seen. Back in the classroom, we used historical and modern maps of Old Sodbury to find our what has changed and what's stayed the same in the past 130 years.
Life Skills
Today we were visited by Becky from Life Skills. We talked about lots of really important topics, including how to keep our bodies and minds healthy, the dangers of smoking, how to maintain healthy friendships and how to deal with disagreements. Thank you Becky!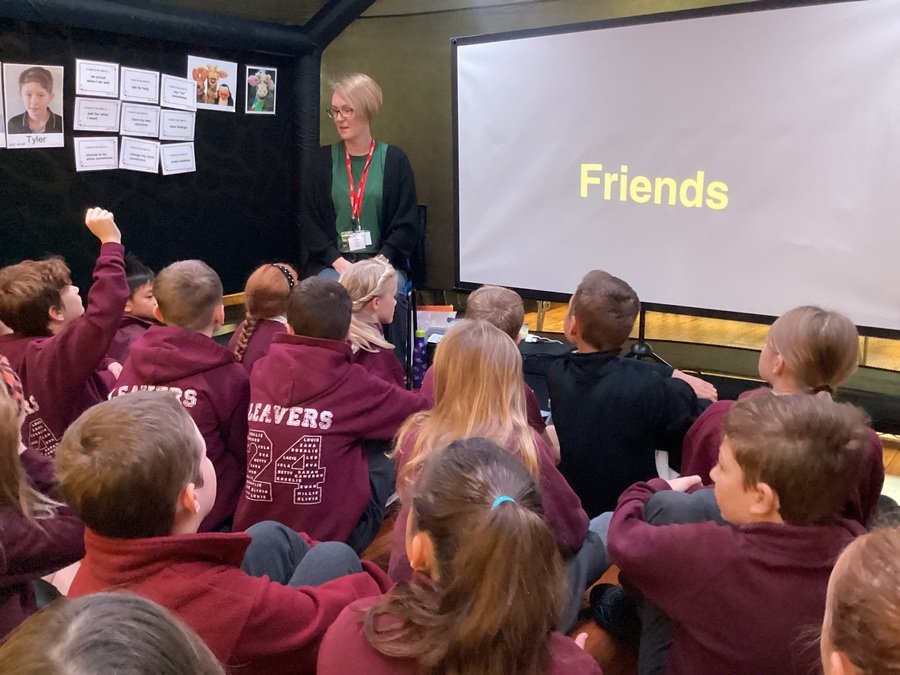 Science Afternoon
We had a brilliant afternoon with some of the Year 12 students from KLB. They planned and organised a scientific enquiry for us to do. We had to grind red cabbage to produce an indicator, which we used to identify different acids and alkalis. Acids turned red and alkalis turned green. Thank you so much KLB!
Term 1
Our mission question is: What is out there and how do we know?
Science
This week in science we carried out our Moon crater enquiry. We chose different variables to investigate and used sand to recreate the dusty surface of the Moon.
Art
In art this term we are exploring collage. This week we used photomontage to create these monochromatic artworks.
Residential Camp
Oak Class had an amazing time on our camp at PGL Liddington. We got to do so many amazing activities and created some incredible memories!